Saturday 7/7/18
2018-07-07, 21:07 by Gary M Jones
I was at the field today between 14:00 & 15:00 all on my own , good flying too. There is a dead sheep along the fence line towards the gate from the pits, I saw the farmer so reported this to her. I hope no one had plans for a BBQ
.
Farmer …
Comments: 1
Ohhh that looks interesting!!!
Euuurgh, TurboCAD. Do yourself a favour, and beg/borrow/steal a copy of SolidWorks. Much easier to learn (and much more useful too!).....
Andy
Oh, and the tool you need for rounding corners off, is called a "fillet" tool

_________________
Chicks dig slop free linkages....

Andy Sayle

Club Chairman




Posts

: 4739


RDMFC Bonus points

: -487569787


Join date

: 2008-11-16


Location

: Abergele, North Wales



Now you are telling me, after I've spent ALL 15 quid for it
AND YES !! including delivery
My friend is good with it - so will try first with it
but thanks
here is what he did with it
http://rcclub.eu/viewtopic.php?f=15&t=276&start=40
PS. thanks for that fillet
< love AutoCad!
Is it a flying wing Robert?
Yes Marty .
I have one plank already - but it's "worn down" (if I can say so) - time for a new one
.
Little update
I found some time so I did some more work on it.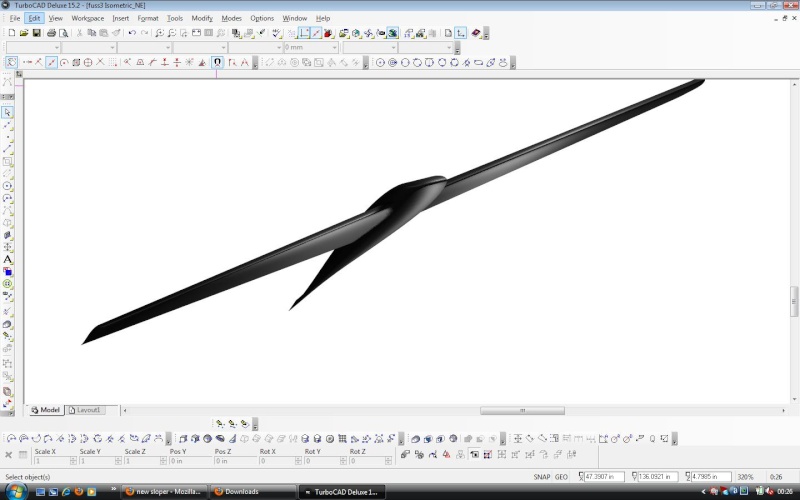 It's not rounded yet - it's the tricky light
Airfoil used - MH45 - but it's just temporarly - will go possibly for pw51 near the fuss and then into MH60 at the ends - will know for sure when I go throu all thoose fancy data airfoil calculators .
Where are you getting the aerofoil info from?
http://mh-aerotools.de
Profili 2
And RCgroups
Unfortunetly I'm not an expert
Just know few basic things
---
Permissions in this forum:
You
cannot
reply to topics in this forum